FEMALE
MHA Female Hockey Pathway (click for information)
---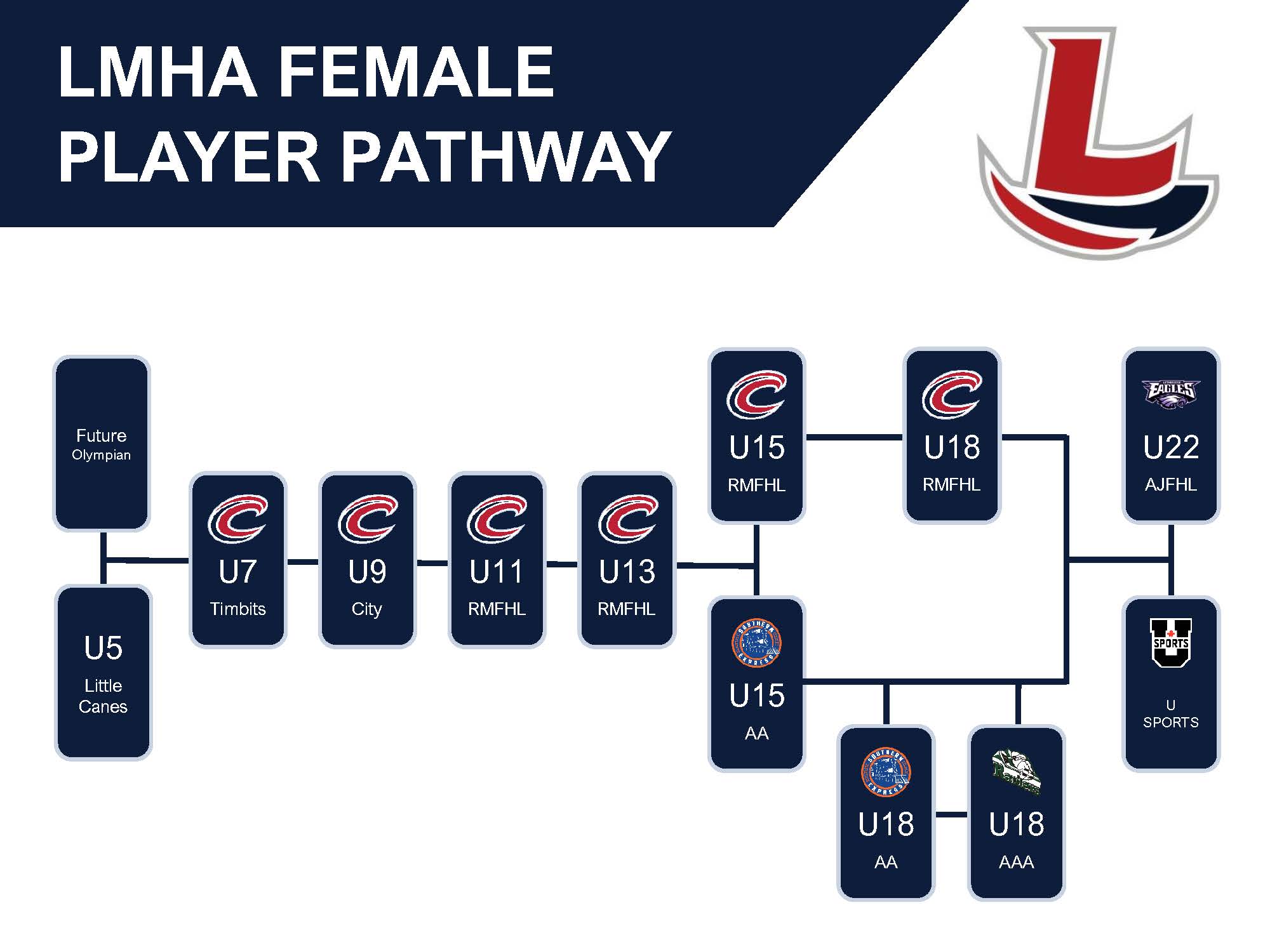 LMHA Female Hockey Pathway
The main goal for LMHA is to offer programming that meets the needs of the players who want to play the game recreationally, as well those that have their sights on the competitive/high performance pathway. Hockey begins at our grassroots level in our Cyclones program with most teams playing in the Rocky Mountain Female Hockey League (RMFHL). If players choose to continue onto a high-performance pathway, LMHA offers a U15AA and U18AA Southern Express program which play in the Alberta Female Hockey League (AFHL). For high performance athletes at the U18 level who want to take the next step, the AFHL offers a U18AAA league. To ensure access to the U18AAA opportunities, LMHA and the Okotoks Oilers Athletic Association (OOAA) will work together to ensure that athletes have the knowledge and resources to play at the highest level of competition.
With this pathway, we hope to encourage female athletes to play hockey at a variety of levels by developing their skills, experiences, and relationships recreationally or competitively. Athletes from outside the City of Lethbridge who have no female team in their area are eligible to apply to play with LMHA on one of our female teams.
PWe have several programs for athletes to get started; the pathway will start with our Future Olympian program, which is an all-female Learn to Skate and Play Hockey program. Here girls will be able to learn, laugh, and build their hockey skillset, while making friends. This program is offered to first time players aged 5 to 9 years and runs for 1 hour, once per week.
Another beginner option is LMHA's U5 Little Canes program where the players will get more of an introduction to hockey at a competitive level in a mixed group. This program runs 45 minutes once per week for age 3 to 4 years.
For our U7 athletes (age 5 to 6 years), LMHA offers a Timbits program that focuses on fun, skating and skills. This program offers two hours per week on weekends, with pick-up style cross-ice games introduced between teams. Our Cyclones program starts at this level with an all-female team. Jamboree style tournaments are also introduced at this level.
For our U9 athletes (age 7 to 8 years), your athlete will build their friendships and skills on an all-female team in a mixed city league. This program offers a team practice for one hour during the week, and a one-hour half-ice game on weekends against other City teams. Tournaments at this level can be either of jamboree style, or competitive.
Cyclones will play in the RMFHL beginning at U11 (age 9 to 10 years); this is one of the largest female hockey leagues and athletes will play against other female hockey teams from associations in southern and central Alberta. At the U11 level, teams will receive one hour of practice during the week, and full-ice games will take place on the weekends. All-female tournaments also begin with this age group.
In U13 (age 11 to 12), athletes will continue to develop and grow as Cyclones, while playing in the RMFHL. At this level, teams are tiered based on skill level to maximize athlete development and ensure that athletes are playing with like-skilled teammates and opponents. Teams will receive one hour of practice during the week and games will take place on weekends.
For the U15 age group (age 13 to 14), athletes can choose to play Cyclones hockey in the RMFHL or play more competitively with our sister program, the Southern Express that plays in the U15AA AFHL. Cyclones teams will again be tiered at this level, while the Southern Express will compete against other U15AA teams throughout Alberta. The Southern Express team will be comprised of athletes from the communities listed at the bottom of this document.
In U18 (age 15 to 17), athletes can choose to continue with the Cyclones program and the RMFHL or once again with our sister program, U18AA Southern Express team. Alternatively, athletes can try out for the AFHL U18AAA, with teams such as Rocky Mountain Raiders who work with our association in promoting female hockey in southern Alberta.
For those who have graduated from U18, our association also runs the U22 Junior Female Eagles team (age 18 to 21), or athletes could potentially play at the post-secondary level. There are many other recreational options beyond U18. It is a dream of our association to establish a female recreational league so our athletes can continue to share their passion for the sport.
South (Southern Express) draw zone associations:
Lethbridge
Bassano
Bow Island
Brooks
Cardston
Claresholm
Coaldale
Crowsnest Pass
Duchess
Foremost
Fort Macleod
Irvine
Kainai
Lomond
Magrath
Medicine Hat
Picture Butte
Pincher Creek
Raymond
Redcliff
Taber
Vauxhall
Vulcan
Warner